St Thomas Jet Riders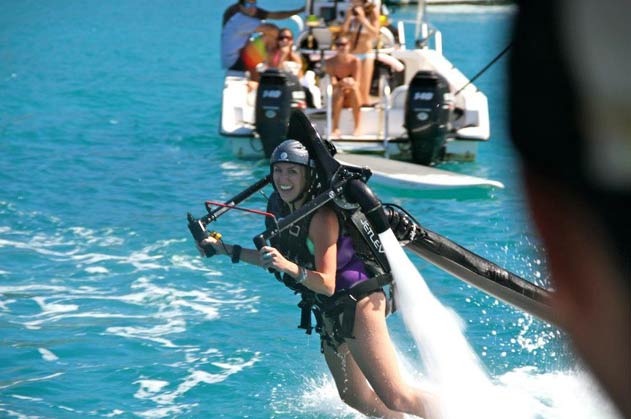 Book Now
Contact Us
Channel your inner James Bond and fly with a water-powered jetpack! Conveniently located in Charlotte Amalie, no experience necessary.
For an exhilarating adventure unlike any other, reserve your over water flight with the St Thomas Jet Rider team. After just a few minutes of learning from an experienced, accredited jet pack instructor, you too can be like James Bond, and fly with a water-powered jetpack. Worn like a roller coaster harness, the pack has enough thrust to lift fliers thirty feet in the air, but enough maneuverability to execute dives, spins, and dips.
As they're conveniently located at the Marriott resort in St Thomas's Charlotte Amalie harbor, flying with the Jet Riders is an easy-to-access activity for guests visiting St Thomas on a cruise ship, or staying in one of the island's many resorts or villas. In order to fly, guests must be at least 16 years old (with parental consent) and five feet tall. Because the jet packs have enough thrust to send over 1,000 pounds into the air, this is a fun and thrilling for most adults. The team provides safety equipment, will show guests how to fly, and can watch personal items while fliers in the air.
Flying with the St Thomas Jet Riders is sure to be an exciting experience you'll remember forever. Because this unique island activity that garners lots of interest- especially during the high-season winter months- be sure to reserve your flight early to avoid disappointment. Call or email us now!
Contact Us